Home
Music Director
Music Lessons

Fees

FAQ

Reservations
Weddings

Fees

Song List

Reservations
Special Events

Fees

Song List

Reservations
Music Demos
Contact Us
Music Links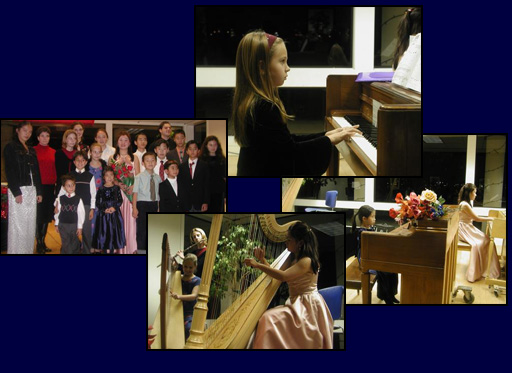 The San Jose/Evergreen Piano & Harp Music Center has become one of the most reputable music schools in the San Francisco Bay Area. Ms. Mei, our Music Director, is an excellent teacher and performer. Ms. Mei holds a Masters Degree from the Manhattan Music School, a world renowned music institute. She is known as a skilled concert pianist and reputable music instructor throughout the San Francisco Bay Area. Our students include all ages and all levels of ability. Through the love of music, they are learning to express their feelings by mastering their instrument.
We offer classes for the piano, harp, guzheng (Chinese zither) and pipa.
We Offer:

Music Lessons:

Piano
Harp
Guzheng
Pipa
Music Theory

Certification Programs:

Suzuki
Trinity London
Royal Music

Flexible hours
Lessons at our studio or your home
Over 10 years of teaching experience
Professional full time teachers
Instruction in classical and modern music
Instruction for all ages and all levels
Private and group lessons
See our fee schedule, or contact us to learn more. If you're looking for a piano, see our links page for sales and rentals.

About the music director:
Ms. Mary Angelina Mei is considered one of the world's leading young harpists and pianists. Ms. Mei is an extraordinary performer and an excellent lecturer. A critic from the World Journal News calls her "a master of the heavenly angel instrument."
Education:

Masters Degree of Music, Manhattan School of Music
Memberships:

World Harp Congress
American Harp Society
Read more about Ms. Mei.