Home
Music Director
Music Lessons

Fees

FAQ

Reservations
Weddings

Fees

Song List

Reservations
Special Events

Fees

Song List

Reservations
Music Demos
Contact Us
Music Links
The San Jose/Evergreen Piano & Harp Music Center can provide a unique and beautiful musical program for your wedding. We serve the entire San Francisco Bay Area, and we can provide talented musicians for a broad range of instruments. We are also happy to assist you in planning the music for your wedding.
Instruments
Every wedding is different, and for this reason we offer a wide variety of music and instruments. We can arrange musical performances by gifted musicians for many instruments, such as the following:
Harp
Piano
Flute

Cello
Viola
Violin

Soprano Vocalist
Baritone Vocalist
Music Director
Our Music Director, Ms. Mary Angelina Mei, is considered one of the world's leading young harpists and pianists. Ms. Mei is an extraordinary performer and an excellent lecturer. A critic from the World Journal News calls her "a master of the heavenly angel instrument."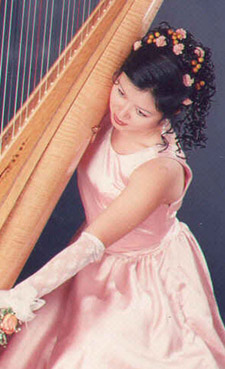 "I realized when I heard Ms. Mei that I was in the presence of a master. She is a truly remarkable, world-class musician, and is among the top harpists in the world."
- Lou Anne Neill, Principal Harpist,
Los Angeles Philharmonic
"Ms. Mei has acquired an outstanding reputation as a harpist. She is a world class musician and one of the leading figures among the world's virtuoso harpists."
- Susann McDonald, Director,
World Harp Congress
Read more about Ms. Mei.
Learn more
We now invite you to listen to one of our demos, then check our fee schedule, or contact us to learn more. We look forward to providing the musical accompaniment to your special day.